Have you paused during your busy day to do the NeuroMindSHIFT™ Super Hero Pose that I shared with you last week?
I know you may have thought this was silly, but standing this way… with your hands on your hips, your chest slightly puffed out, chin up, and your feet shoulder width apart …really does make you feel confident, strong, and powerful.
As Amy Cuddy from the Harvard Business School confirms, "power poses", such as the Super Hero Pose, can positively boost your attitude, confidence, power and capability.
Cuddy also says that adopting the "Super Hero Pose" changes the way other people see you too, which in turn reinforces your confident behaviour.
Share A Pic
I took some pics of those who calmed the chaos and built up their confidence with me as I did the Super Hero Pose with them!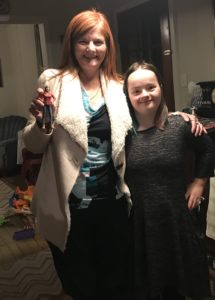 Here is my best friend Joe (Ainsley)!
She is an absolute hero who reminds me every day to pause in simple ways to boost my energy, increase my level of fun, and to smile!
Remember to smile when you do your Super Hero Pose! It encourages others to smile too and boosts how you feel.
Here is Jennifer, one of the receptionists at my veterinary clinic.
Jennifer believes in the Super Hero Pose and it boosts her energy and how good she feels!
Jennifer is always kind, compassionate, and makes me feel great whenever I take Odin to the vet clinic.
Here is Mary Genge from Hub Creative Group!
Mary is a Super Hero for sure because she, Melanie Huff and John Lyons re-created my website. Be sure to take a look at sharoncampbellrayment.com and let me know what you think.
You will also see Mary on Facebook Live with me as she interviews me about what I am passionate about, how my journals, my horses, and the labyrinth transformed the chaos of my accident into inner peace, realigned with my true purpose, to feel unbridled joy, success, and abundance.
Please like my business Facebook page if you haven't already by clicking here to ensure you don't miss it!
I will continue to do weekly Facebook Live posts to share with you the insights from my unearthed journals. You'll work with me as I create calming moments, in the midst of the chaos of our world, by Creating Harmony From Within through the NeuroMindSHIFT™ transformation to inner peace, joy, and success.
Do a Super Human Pose right now! See how you feel! Smile and say "Boom baby! I feel great!" I'd love it if you would take a pic of you, and whoever you feel is a Hero to you, standing in the Hero Pose and share it on my Facebook page.
Remember to pause and calm the chaos frequently throughout your day in a NeuroMindSHIFT™ Moment and tap into the greatness that lies within.
All the B.E.S.T. and blessings,
Sharon